About Us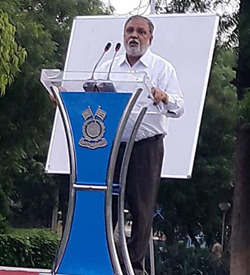 Muskan Foundation is a non-government, non-profit registered organization, extensively working in the field of prevention, treatment and rehabilitation of drug dependents and alcoholics, HIV/AIDS awareness for prevention, care giving facility for people living with HIV/AIDS, IEC and BCC campaign for drug abuse prevention and VCTC.
The Organization was formed in 2003 and is pioneered by a dynamic, hardworking and dedicated team of medical and paramedical professionals. Some of the staff working here also includes the recovered addicts, who offer their services voluntarily in gratitude of the treatment they received here.
The organization is recognized and supported by Ministry of Social Justice & Empowerment, Government of India in 2011 for Adult and 2017 for Children by granting "Integrated Rehabilitation Centre for Addiction- IRCA". The organization also recognized and supported by National Institute of Social Defence-NISD, Ministry of Social Justice & Empowerment, Government of India in2020 by granting "Outreach and Drop In Centre –ODIC – South West Delhi". The Organization is a leading institution of NCR Delhi in this field and an identified centre by the MSJE-GOI to field visits for their trainees. Also identified centre for educational visits for students of Psychology, Nursing & Management under different universities across India (SGT University-Gurgaon, IIFT-New Delhi, AMITY University-Noida & Manesar, K Pandyarajah Ballal Nursing Institute-Mangalore, Savitribai Phule Pune University, Jamia Hamdard University, New Delhi).
Our Organization has been identified as referral centre for the treatment of drug addicts and alcoholics by various NGOs and also identified as referral centre for the treatment and rehabilitation of Judicial Custody Patients by the Honorable MM, Patiyala House Courts, New Delhi.
Vision
The vision of the organization is to build a humane, healthy and drug free society, by making people aware about the consequences of drug addiction and treating patients for various types of drug abuse, in order to bring their life back to normal.
Mission
The mission of the organization is to build a drug free society through awareness, counseling, detoxification and other medical and social services.
Objectives
The broad objectives of the foundation are:
To provide residential treatment and other care and rehabilitation services to drug dependents and alcoholics
To identify, educate and motivate drug dependent and alcoholic individuals to seek treatment
To carryout research in the field of drug dependence, alcoholism and HIV/AIDS
To provide education and counseling for prevention and management of HIV/AIDS, drug abuse, alcoholism and TB patients
To help and assist children and spouses of drug dependents, alcoholics and HIV/AIDS patients
To provide any novel activities to uplift the society
To make representation with central / state government and semi government and other concerned authorities to attain the aims and objectives of society