Community Based Peer Led Intervention (CPLI) - South West - MSJE - GOI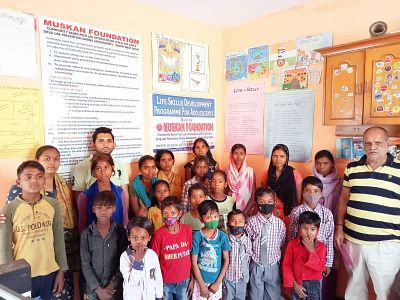 Community Based Peer Led Intervention (CPLI) for Early Drug Use Prevention among Adolescents– South West Delhi
Supported by National Institute of Social Defence – NISD, Ministry of Social Justice & Empowerment-Government of India
Project Site –C-67, First Floor, Sri Chand Park, J.J. Colony, Sector-3, Dwarka, New Delhi – 110078
In Peer-led intervention, the "peer educator" plays a paramount role and the term is used to describe a staff member of the intervention team who is in the age group of 10 to 18. He/ she shall be a non-substance user or an individual who had tried substances on experimental basis in the past.
Advantages of Peer Led Intervention
Some of the distinct advantages of PLI are:
· Targeting the vulnerable children/adolescents will help to delay/ prevent/ reduce substance use in the community
· Fast to multiply, thus more beneficiaries could be reached out with relatively less resources. Hence cost effective
· Easily acceptable to the target group since their "peers" are giving them the messages.
· Peers are in a better position to monitor the situation and trends.
· This approach increases the feasibility and sustainability of the project
· Involvement of the community will encourages their "ownership" of the project and potential response to the project activities among the network of substance users.
Thus in this approach, the PE/ service providers should reach out to clients in their different hangout areas such as parks, colonies, streets in the slum etc. Similarly, other service providers in the community (the second stakeholders) should also be involved to develop a good network, which will further strengthen the process of referral system. In this manner, the concept of the program becomes a community based approach rather than an institutionalized one.
Target
1. Identification and selection of 20 peer educators as proposed in the stipulated guidelines.
2. Selected Peer Educator will be trained including field visit.
3. Each trained Peer Educator will work with atleast 10 peers (young users and non users) in each quarter (three months) targeting to a total of 40 beneficiaries at the end of project year.
4. The Peer Educators will engage with the peers for a minimum of 120 hrs per quarter which includes educative session of 40 hr duration as per the guidelines.
5. Psycho social interventions based on behavior change and motivation to be provided to the maximum.
6. Also, psychosocial and other service to be reached to 400 adolescents/ youth who have initiated using substances.
Donate
Kindly use the following bank details to make a donation:
For National Donation
Account Name
:
MUSKAN FOUNDATION
Account No
:
2948201010170
IFS Code
:
CNRB0002948
Bank
:
Canara Bank
Bankaddress
:
PLOT NO.15A, SECTOR-7, DWARKA, DELHI - 110075
To Donate National Donation Online: Donate Now